Rejuvenate Your Appearance and Face the World Beautifully
---
Your facial features play a defining role in your overall appearance. With facial plastic surgery - Dr. Sherris and his team at the Clinic of Facial Plastic Surgery in Buffalo - can correct imperfections and enhance your natural beauty to not only improve your appearance but your self-esteem as well. If you would like to make a lasting, positive change in your life, we encourage you to take action. To schedule a consultation with Dr. David Sherris regarding facial plastic surgery, contact our Buffalo cosmetic surgery center today.
Face Lift
A face lift can address droopy and sagging skin around the jawline, cheeks and neck. By making small, strategically placed incisions, Dr. Sherris can smooth the skin and underlying layers to achieve a more youthful, healthier looking appearance. Though some individuals' needs may be met with less invasive procedures, a face lift can deliver truly transformative results.
Read more about face lifts.
Posterior Lift
The posterior or neck lift addresses only the neck area below the jawline. The incisions are predominately behind the ear. Platysma muscle plication which addresses neck muscle banding or liposuction to remove extra fat may be added to the procedure commonly. The procedure is an excellent choice for those with early loosening of the neck, or loosening of the neck after a primary facelift years earlier. The skin and muscle (SMAS) in the neck is tightened along with the skin behind the ear and into the neck.
Mid Face Lift
The mid face lift is an endoscopic procedure using the smallest incisions possible to lift the cheek pads back to a youthful, elevated position. The endoscope is a small camera used during surgery to visualize deep tissues through tiny incisions. In so doing the tear troughs under the lower lids and lower eyelids are smoothed along with the cheeks. This procedure does not smooth the neck or jowls significantly but addresses the middle of the face. For individuals who would like to reduce puffiness around the eyes or sagging of the cheek, a mid face lift may provide the solution. Learn more about mid face lifts.
Mini Face Lift
Allowing for the quickest recovery time and involving the least invasive procedural techniques, a mini face lift can be employed to address specific problem areas on the face. The mini face lift addresses more minor laxity along the jawline, cheeks and neck. The procedure is especially useful for patients with early aging face who want to specifically smooth those areas with a less invasive procedure or in patients needing a touch-up of a prior facelift. Is a mini face lift right for you?
Deep Plane Face Lift
More advanced than a standard face lift, a deep plane face lift is a more comprehensive and complex surgical procedure that is used to address issues that a standard face lift alone cannot, including severe facial sagging, extensive ptosis (or drooping) of the mid face structure, and deep nasolabial folds (or folds around the nose). By lifting the skin and underlying soft tissues in one layer all the way to the nasolabial folds patients will realize the maximum possible lift of the cheeks, mid face, jawline and neck available today! If you are considering facial plastic surgery in the Buffalo area, our team can determine if you are a candidate for a deep plane face lift procedure. Learn more about deep plane face lifts.
Facelift Patient
---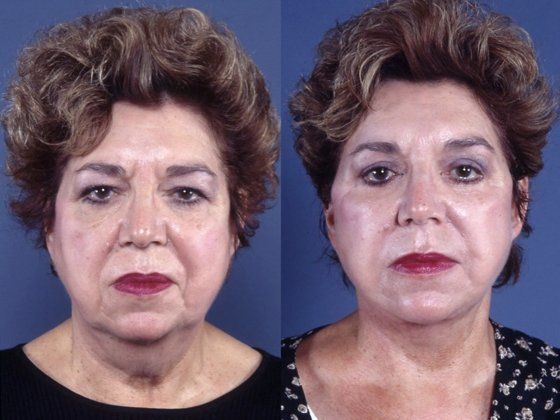 Brow and Forehead Lift
A brow lift or forehead lift elevates the brow line, smoothes wrinkles on the forehead, and corrects sagging eyebrows, creating a younger-looking and refreshed appearance. To achieve this, small, inconspicuous incisions will be made just behind the hair line. Through these incisions, Dr. Sherris can introduce a small camera to use while repositioning the brow to its correct position creating a natural and bright-eyed appearance. The wrinkles between the eyes can be permanently improved, and the procedure realizes the effect of partial, permanent Botox on the "eleven" creases. The results of this procedure can truly transform a person's appearance and make him or her look years younger. Learn more brow lift or forehead lift.
Endoscopic Browlift Patient
---

Rhinoplasty
If the nose is disproportionate in size to the face, asymmetric or crooked, or causes breathing problems it can negatively impact a person's confidence, self-image, and health. With rhinoplasty, the shape and size of the nose can be refined while improving the nasal airway so that it more closely matches the patient's ideal look and maintains or improves breathing. Numerous techniques can be used to alter the nose, including open and closed rhinoplasty. Dr. Sherris is a world expert on improving both the form and function of the nose. Dr. Sherris speaks on and teaches rhinoplasty around the United States and throughout the world.He even performs live surgery in Europe so other doctors can learn his techniques. One of the most popular, but technically advanced facial plastic surgery procedures, rhinoplasty is safe and effective. Learn how rhinoplasty can change the way you feel.
Rhinoplasty Patient
---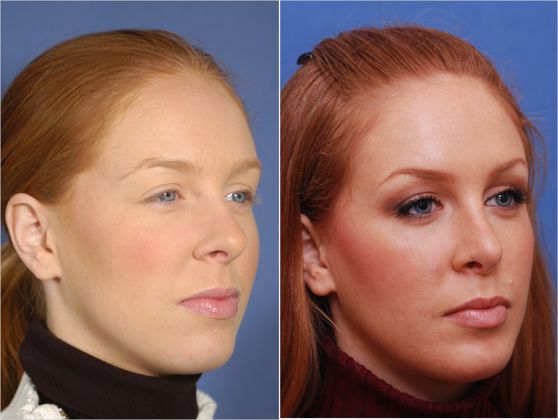 Eyelid Surgery
Also known as blepharoplasty, eyelid surgery can reduce puffiness and sagging skin around the eyes. Drooping eyelids can give you a tired, aged appearance, but with eyelid surgery, refreshed youthful eyes can be yours. In severe cases with excessively sagging upper eyelids, peripheral vision can be impaired and eyelid surgery maybe be covered by insurance to correct vision. Read more about blepharoplasty, eyelid surgery.
Eyelid Surgery Patient
---

Cosmetic Ear Surgery
Large or protruding ears can make a child or adult feel self-conscious about his or her appearance. With cosmetic ear surgery (otoplasty), Dr. Sherris can reduce the appearance of the ears in relation to the face by minimizing their profile and bringing them in closer to the sides of the head. Also known as "ear pinning," cosmetic ear surgery can transform an individual's appearance and let the features of the face shine.
Otoplasty Patient
---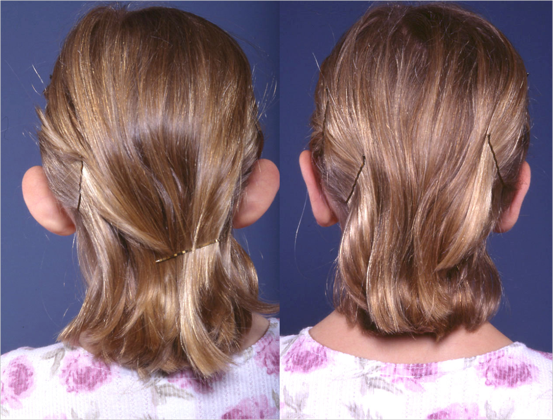 Facial Augmentation
Individuals seeking to enhance facial features, like a small or receding chin, sunken cheeks or thin lips for example, can have their needs met with facial augmentation surgery. With facial augmentation and the use of implants, Dr. Sherris can strengthen features such as the chin, cheek area, and lips. Implants can provide structure and balance features resulting in a more masculine profile for a male patient or a more balanced profile for a female patient. For those seeking a more feminine or youthful appearance cheek or lip augmentation can help to achieve this. Read more about facial augmentation.
Learn More about Facial Plastic Surgery - Contact Us
If you have considered facial plastic surgery and would like to learn more about the procedures we offer; contact our Buffalo cosmetic surgery practice today to schedule a personal, no-obligation consultation with Dr. David Sherris.
"It is my mission to provide our patients with the most knowledgeable, expert care available combined with an eye for artistry."

David A. Sherris, MD