Signs of aging like wrinkles and lost volume in the cheeks and lips can make you feel self-conscious about your appearance.
Injectables allow you to maintain your appearance over time with minimal effort and without plastic surgery.
Explore how the Clinic of Facial Plastic Surgery in Buffalo, NY, can rejuvenate your appearance in a single appointment...
Injectables like dermal fillers, Sculptra®, and botulinum toxin can accomplish a variety of cosmetic goals without plastic surgery:
Slow the formation of wrinkles
Smooth facial wrinkles
Add volume to cheeks or tear troughs
Add overall volume with increased collagen production
Plump lips
Define jawline
The Benefits of Injectables
Youthful Beauty
Injectables can restore youthfulness to your features by smoothing wrinkles and adding volume to sunken areas of the face. You can look like a younger, more rested version of yourself after a quick appointment with us in Buffalo.
Enhanced Facial Appearance
Injectables allow you to make minor changes that have a big impact on your appearance. Our plastic surgeon can add volume to your lips, cheeks, jawline, and more to bring your facial features into better harmony.
An Alternative to Plastic Surgery
Though plastic surgery is a more permanent solution, injectables can make many of the same changes to your facial aesthetics, albeit in a more subtle way. Injectables are inexpensive when compared to plastic surgery and can be a great way to help you decide if you want to undergo surgery eventually.
A More Youthful Appearance Is Within Reach
Contact The Clinic of Facial Plastic Surgery Today
Finding the injectable that's right for you will depend on the area you are looking to treat, the goals you're trying to accomplish, and your preferences. Dr. David A. Sherris is a double board-certified plastic surgeon who can determine a course of action that will most effectively provide the results you seek.
If you're in the Buffalo, NY, area and you want to explore injectables with a surgeon's guidance, we invite you to reach out to us with our contact form or call:
"Only one word comes to mind: Stellar."
See Why Our Patients Choose Us
The entire team is excellent and extremely profesional. There is no doubt that I made the best decision of my life in choosing Dr. Sherris to perform my procedures.
View on Google
Only one word comes to mind: Stellar. Dr. Sherris and his staff are highly experienced professionals who take their work very seriously.
View on Google
Explore Our Dermal Fillers
We have a wide variety of fillers available at
our practice in Buffalo, NY
. No matter which cosmetic concern you're trying to address, we're bound to have the solution for you.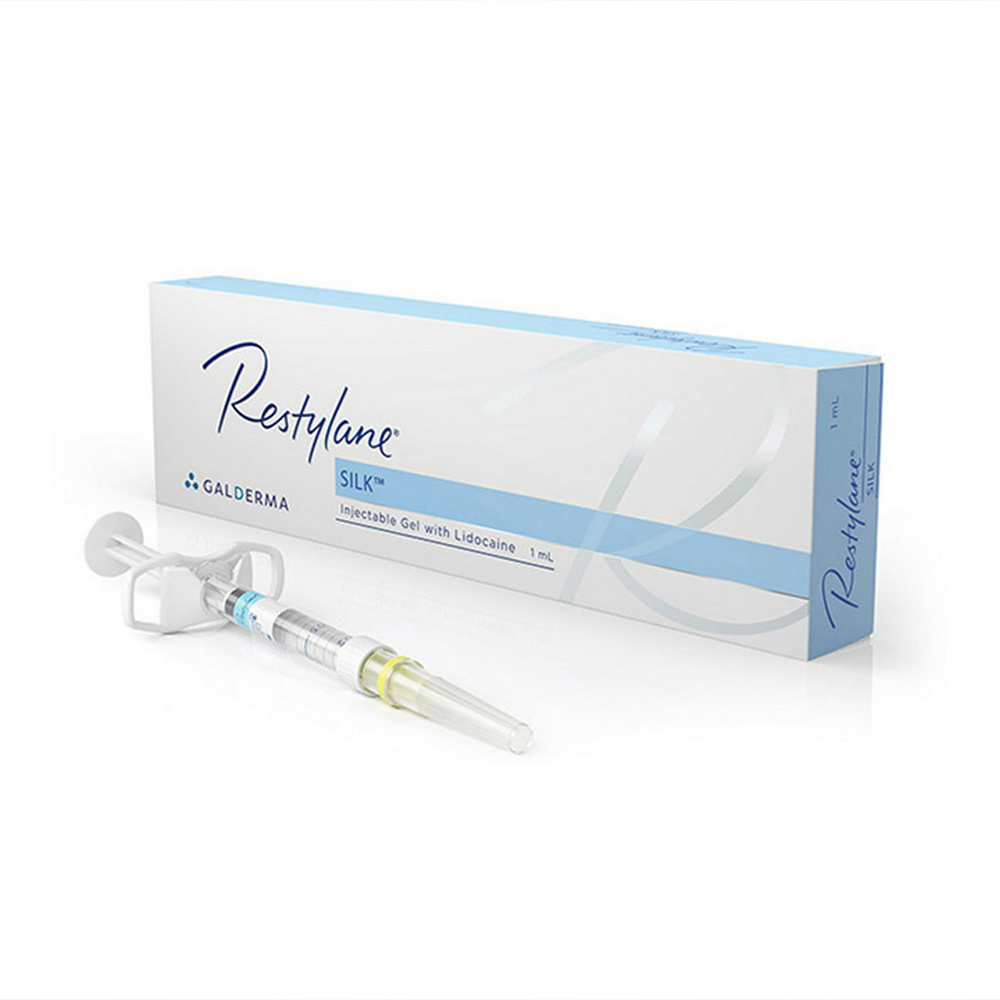 Restylane
Restylane® is a family of dermal fillers including Restylane®, Restylane® Defyne, and Restylane® Lyft. Restylane® injections contain hyaluronic acid, a naturally occurring substance in the body that delivers volume to the skin. They are an effective solution for patients who wish to reduce facial wrinkles, restore volume to their cheeks, or plump lips. Depending on the treatment area, Restylane® can last anywhere from six to 18 months.
JUVÉDERM
JUVÉDERM® products contain a modified cross linking version of hyaluronic acid. Our Buffalo practice offers JUVÉDERM ULTRA XC, and JUVÉDERM VOLLURE™ XC to plump lips or treat moderate to severe facial wrinkles like nasolabial folds, marionette lines, or tear troughs. JUVÉDERM® products can provide results for up to 18 months.
RHA
The RHA® Collection is the only FDA-approved hyaluronic acid filler for dynamic wrinkles and folds, lines that occur as a result of facial movement. This filler is designed to plump skin and smooth wrinkles for up to 15 months, while appearing very natural with our facial expressions at rest or in motion. It can also plump the lips for a beautiful pouty look.
RADIESSE
RADIESSE® is used to treat mild to moderate facial wrinkles, nasolabial folds, marionette lines on the lower face and to improve the contour of the jawline. This filler contains calcium hydroxyapatite (CaHA), which stimulates the production of collagen and elastin. The new collagen remains in place even after the CaHA is absorbed by the body, resulting in long-lasting effects.
Sculptra® Aesthetic is an FDA-approved injectable that gradually restores lost volume in the face. These fillers contain poly-L-lactic acid (PLLA) microparticles, which stimulate the production of collagen as they are absorbed, giving patients a more youthful-looking appearance for up to two years.
BOTOX and Dysport
Can Virtually Erase Wrinkles
Patients who want to smooth wrinkles caused by dynamic movements or expressions may benefit from botulinum toxin injections like
BOTOX®
and Dysport®. These injections relax your muscles in a natural way to slow the formation of wrinkles and minimize their appearance for up to six months.
BOTOX
BOTOX® Cosmetic is an injectable treatment that is primarily used to smooth wrinkles like crows' feet, laugh lines, and forehead lines. BOTOX® Cosmetic typically lasts about three to six months.
Dysport
Dysport® is primarily used to smooth moderate to severe frown lines between the eyebrows and forehead wrinkles. The formula is similar to BOTOX® Cosmetic. Dysport® typically lasts for up to five months.
Target Multiple Problems at Once
Though many patients can benefit from choosing just one injectable treatment, some patients may be candidates for both fillers and botulinum toxin injections. These injectables can work together to target both dynamic wrinkles (lines that occur due to the contracting of facial muscles) and static wrinkles (lines that occur due to volume loss). Dr. David A. Sherris can create a comprehensive treatment plan based on your unique needs.
Explore Nonsurgical Rejuvenation
Contact Our Buffalo Office Today
You don't need plastic surgery to fine-tune your facial aesthetics. If you have several areas of concern, nonsurgical treatment with injectables can provide you with the look you desire. Our double board-certified plastic surgeon can create a treatment plan that smooths wrinkles, adds volume, enhances facial structure, and more.
Take the first step toward boosting your confidence and turning back the clock. Request a consultation with us today:
"Well this is my second treatment done by Dr Sherris , I had my eyelids done and wrote a review about my fantastic experience and how happy I am with that, just went back today to get some filler around my mouth and gels and I could not be happier! Virtually painless and so happy with the results thoroughly recommend him."

Laudan Bailey
What to Expect During Your Appointment
Getting dermal fillers or botulinum toxin at our Buffalo office only takes a few minutes to an hour, depending on the number of areas to be treated.
Dr. Sherris
will perform the procedure himself. Your appointment will involve several steps:
Dr. David A. Sherris is a double board-certified plastic surgeon who can determine a course of action that will most effectively provide the results you seek.
Though injectables from
our practice
in Buffalo always require touch-ups to maintain the results, there are some things you can do to make your results last as long as possible and slow the aging process altogether:
Use Topical Treatments
Though you should follow a gentle skincare routine in the days after your appointment, using products like retinol can help reduce the signs of aging in the long term.
Wear Sun Protection
The sun contributes to the aging process, so we recommend that you apply sunscreen every day and wear protective clothing when outside.
Receive Touch-Up Treatments
After the results of your initial treatment have faded, you can contact The Clinic of Facial Plastic Surgery to request another injectable appointment. Dr. David A. Sherris can even make recommendations as your needs change.
Paying for Your Injectables
Injectables can enhance your appearance in many ways while boosting your confidence. We want you to have access to this life-changing cosmetic treatment, so we do everything we can to make it affordable. We accept financing through CareCredit®, a third-party lender offering both low-interest and interest-free payment plans.
"Very pleased with my results."
Very pleased with my results from Dr. Sherris. He is my go-to from now on. All appointments were timely and professional. I also felt very safe in his office. My small procedure has made me feel years younger and has given my confidence a nice boost. Could not recommend him enough!
View on Google
Dr. Sherris and his entire staff are so kind and do an amazing job. They are incredibly supportive throughout the entire process and I couldn't be more pleased with the results. Would highly recommend!!
View on Google