A Comprehensive Solution to Sagging Cheeks, Deep Folds, and More
---
Though we offer a range of facial cosmetic surgery procedures at our practice, some are unable to treat specific conditions brought on as a result of aging, including deep nasolabial folds (creases around the nose) and excessive ptosis (drooping) of mid-face structures like the cheeks and lower eyelids. With a deep plane face lift, these features can be corrected.
Located in Buffalo, the Clinic of Facial Plastic Surgery is the preeminent center for the treatment of the face in the Western New York area, and is built on unwavering care and attention to our patients' concerns. If you have considered facial plastic surgery to rejuvenate your appearance and minimize wrinkles, lines, and sagging skin, our team - led by esteemed plastic surgeon David Sherris - can be trusted with your care. To schedule a consultation or learn more about deep plane face lift surgery, contact our Buffalo plastic surgery clinic today.
Deep Plane Face Lift
The deep plane face lift is designed specifically to treat sagging mid-face structures and deep nasolabial folds. It is a modification of a standard full face lift, and in many ways, the procedure itself is very similar. Both utilize standard incisions and both involve the manipulation and repositioning of the Superficial Muscular Aponeurotic System (SMAS). However, a deep plane face lift allows for the direct lifting of the malar fat pad in the cheek along with surrounding tissues, and provides more comprehensive treatment for individuals who suffer from severe facial sagging and skin laxity.
To perform a deep plane face lift, incisions will be made along the hairline so that the doctor can separate the skin from the muscle tissue. Once the muscle and fat tissue has been repositioned so that it is elevated around the cheek bone, the skin and tissue will be reattached or re-draped in the desired position. Excess tissue and skin will be removed as necessary to ensure positive results. The deep plane facelift also includes liposuction of the neck to remove excess fat beneath the chin and to facilitate neck lifting and tightening.
Facelift Patient
---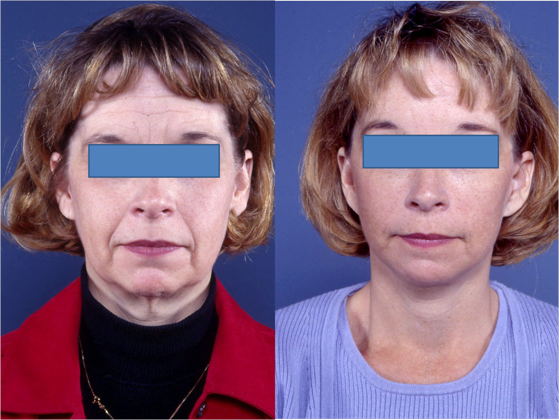 Risk and Benefits
The results of a deep plane face lift can last 10-15 years, and can truly transform and revitalize a person's appearance. If the effects of aging make you look tired, haggard, unhealthy, or older than you really are, a deep plane face lift may be for you. At our Buffalo practice, we have witnessed firsthand the positive impact that cosmetic surgery can have on an individual - improved self-esteem, greater confidence, a renewed self-image, as well as a livelier and more personable demeanor - and are advocates for treatment.
A deep plane face lift is an invasive surgical procedure and is not without risk. Though rare, and in most cases preventable with proper care, there is the possibility of excessive bleeding, infection, scarring, bruising, swelling, sensory or motor nerve damage, adverse reaction to anesthesia, hematoma, and in some cases skin discoloration and hair loss. Before you make a decision on treatment, you should consult with Dr. Sherris and weigh the risks and benefits.
Learn More about Deep Plane Face Lift - Contact Us
If you would like to discuss the deep plane face lift with Dr. Sherris at our Buffalo office, contact Clinic of Facial Plastic Surgery today. We encourage you to learn everything that you can about the deep plane face lift procedure so that you can make an informed decision.
"It is my mission to provide our patients with the most knowledgeable, expert care available combined with an eye for artistry."

David A. Sherris, MD