Approach the World with Renewed Confidence and Self-Esteem
---
If your ears are overly large, stick out prominently, or are disfigured, cosmetic ear surgery may be for you. Our Buffalo team, led by Dr. David Sherris, has extensive experience with otoplasty and can help if you are looking to reshape your ears and achieve a more balanced appearance. Conspicuous ears can distract from a person's natural facial features as well as hurt an individual's self-esteem and confidence in social situations. With cosmetic ear surgery, the ears can be both reshaped and repositioned so that they look more natural and more attractive. If you suffer from large or protruding ears and are interested in cosmetic ear surgery, contact our Buffalo cosmetic surgery center today.
Cosmetic Ear Surgery - Otoplasty
There are two primary types of cosmetic ear surgery: ear pinning and ear reshaping. The type of treatment that you undergo will depend on your needs and aesthetic goals.
Ear Pinning - To accomplish ear pinning, both cartilage scoring (cutting) and cartilage sparing (the repositioning of tissue with sutures) can be employed. The method that is used will depend in part on the scope of the procedure and goals of the patient. With cartilage scoring, an incision is made behind the ear. This incision allows excess cartilage and skin to be removed so that the ear can be repositioned. With cartilage sparing, sutures or stitches are used to draw the ears in closer to the side of the head. This non-invasive method often produces smoother results and eliminates the potential for scarring, but is not always an option.
Ear Reshaping - If you have reservations about the size and shape of your ears or you suffer from a disfigurement, such as "cauliflower ear," ear reshaping surgery can be utilized to achieve ears more in line with your self-image. Ear reshaping surgery differs for each patient, but can include reducing the size of the ear lobe, reshaping the ear through cartilage removal, or removing or correcting a disfigurement.
After discussing your goals in detail, we can determine which treatment would be best suited to meet your needs. At Clinic of Facial Plastic Surgery, we specialize in facial cosmetic surgery procedures and can provide you with the highest standard of care.
Otoplasty Patient
---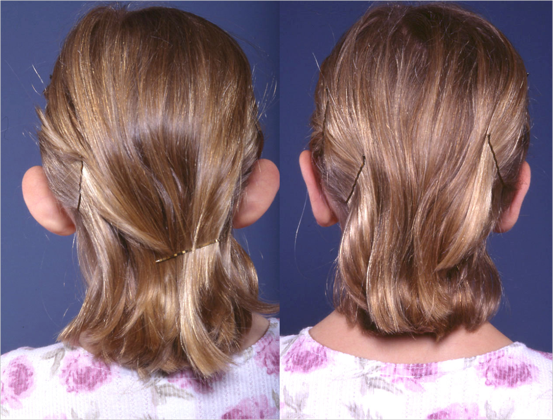 Risks and Benefits
Being comfortable with who you see in the mirror is a benefit that cannot be qualified. Being content or happy with your self-image will improve your self-esteem, your confidence in social settings, your demeanor, and your impression on others, among other things. If you are happy with your appearance but are constantly distracted by the shape or size of your ears, make a positive change in your life today and consider cosmetic ear surgery.
Though otoplasty requires minimal recovery time and has an extremely high success rate, it is not without risks, particularly if one opts for cartilage scoring. The risks of invasive surgery include infection, adverse reaction to anesthesia, bleeding, swelling, bruising, scarring, and the need for secondary surgery.
Learn More about Cosmetic Ear Surgery - Contact Us
We invite you to learn more about cosmetic ear surgery, or otoplasty. At our Buffalo practice, we believe that educating our patients is of the utmost importance, as individuals should be able to make an informed decision regarding treatment. During your personal consultation, we can advise you of your options. To schedule a consultation, contact Clinic of Facial Plastic Surgery today.
"It is my mission to provide our patients with the most knowledgeable, expert care available combined with an eye for artistry."

David A. Sherris, MD